By Correspondent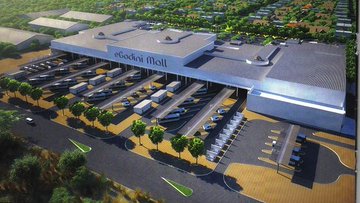 In 2016 a South African company, Terracotta Trading, won the tender to construct a US$60 million mall in Bulawayo.
It was structured as a build, operation, and transfer deal.
Terracotta would hold a 49% share while local companies would take 51% ownership shares.
The company defeated15 other companies to win the tender to construct a state-of-the-art multi-purpose complex at Egodini.
Construction was to take between 18 to 24 months.
However, nearly ten years later there is nothing much to show for the noise then.
Huge Plans
The refurbishment was expected to see the creation of terminus to handle at least three million travelers per month, according to the council.
As part of the redesign of the terminus, the council would expand existing roads into the site and create dedicated pedestrian routes to increase traffic access.
Upon completion, the development would change the face of the city business-wise.
Bulawayo was set to ultimately own the mall once Terracotta had recouped its investment.
According to the Bulawayo City Council (BCC), the opening of the mall has since been pushed back repeatedly over the years.
Reasons have varied from Covid-19, to local companies failing to avail necessary machinery to the currency issues.
"Councillors' opinions are divided. Some want us to cancel the deal, others want us to engage the contractor.
"We are yet to receive the progress report from council management and officials on the current state of work at Egodini" says Mayor Solomon Mguni.
Terracotta has itself been accused of delaying Egodini Mall's development.
However, it has denied the accusations and laid out its own reasons.
COVID-19 lockdowns imposed by the government in 2020, according to company director Thulani Moyo, contributed to the delays.
Lofty Ambitions
Phase 1A has 100 informal merchant booths, a 100-bay taxi rank, a security wall, a security tower, motor, retail, and taxi association offices, public restrooms, and a service lane.
In the second phase, there'll be a bus station, fast-food restaurants, and a supermarket anchor.
However, Bulawayo Progressive People Association (BPRA)'s Sibindi says the Egodini Mall arrangement has taken citizens for a ride.
Bulawayo Progressive Residents' Association chairman Mr Ambrose Sibindi also concurs.
In January he said council is to blame.
"It comes as a surprise that now they are saying by April (2023) they would have opened the taxi rank and vending bays.
"I blame council who are in contract with Terracotta" he said.
Skeleton
Currently, the bus rank has not been paved and the developer has indicated that paving will be done soon.
That soon, was February who has since passed.
Bus sheds have not been roofed and the contractor had advised that all roofing materials have been secured and are currently stored in a warehouse waiting for the roof contractor to finish manufacturing other components.
"The roof was also expected to be completed at the end of February 2023.
"An ablution facilities block is at window level and there will be need for it to be completed before the occupation of the facility," read the latest council minutes.
Bulawayo residents have lost any hope after years of nursing it and now wait tiredly.
Any excitement they had with a world-class mall has died down.
The multi-million dollar mall remains a skeleton of steel and concrete without life.