By Correspondent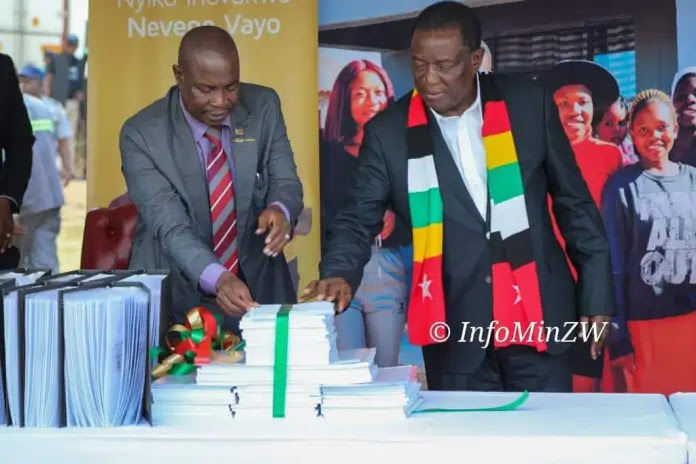 Last week President Mnangagwa handed over 265 securitised title deeds to some Epworth residents.
The total number of those deeds which are already made is actually 11 200.
This is according to Information Permanent Secretary Nick Mangwana.
"The target for Epworth is 38000 (and the) target for Caledonia is 29000.
"Highfields is high on the agenda (and) nobody is paying anything to get the Title Deeds.
"A Development partner called KWANGU TRUST, is picking all the costs including statutory ones," he says.
It's clear that the President, who squeezed through the 2018 election by a slight margin, is looking for numbers.
An Abused Process
The process of getting title deeds in a normal country is mundane and legal.
It doesn't require the slightest presidential involvement in an way.
That in Zimbabwe it has to be led by the President is testament of two things.
One, it's election season and the politicians are on the hunt and secondly, the systems have collapsed.
Rejoice Ngwenya, Chairperson of the Coalition for Market and Liberal Solutions (Comaliso) said as much.
"When a political party says, "if you vote for us, we will give you title deeds", we get concerned because we know the process of titling is highly legalistic and procedural.
"That is why COMALISO went to Parliament to 'complain' about this difficult process that endangers the tenure of millions of citizens.
"Title deeds cannot be a matter of political campaign because getting them is a complicated process that comes with compliance to no less than ten laws," he said.
Over 2 Million Without Deeds
It's clear that President Mnangagwa is cheaply pandering to the desire to win over urban residents.
Getting title deeds is a normal process which anyone who has built or bought a stand should manage without politics.
However, in Zimbabwe nothing seems to be normal anymore.
A research by Comaliso has revealed that not less than two million urban citizens live on untitled properties.
One of the reasons is that to acquire title deeds one has to abide by over ten laws.
"The reason why Epworth, Harare, Norton, Masvingo and Mutare city councils have little appetite for 'regularising informal settlements' is because they would have to bend or break their own planning laws," says Ngwenya.
The Politics
In 2018 Mnangagwa received 2.46m votes, or 50.8% of the 4.8m votes cast.
Meanwhile, Nelson Chamisa, the then candidate of the opposition, won 2.14m votes or 44.3%.
Mnangagwa needed to win by more than 50% to avoid a runoff vote.
Having seen the economy huff and puff over the past five years it follows that not much has been gained in terms of new support for ED.
He obviously needs to supplement his numbers by "eating" into opposition support mainly found in urban areas.
What better way is there than harvesting the heavily populated and poverty stricken areas such as Epworth and Caledonia.
With a few months left before elections, its now apparent the hunting season is truly upon us.