By Correspondent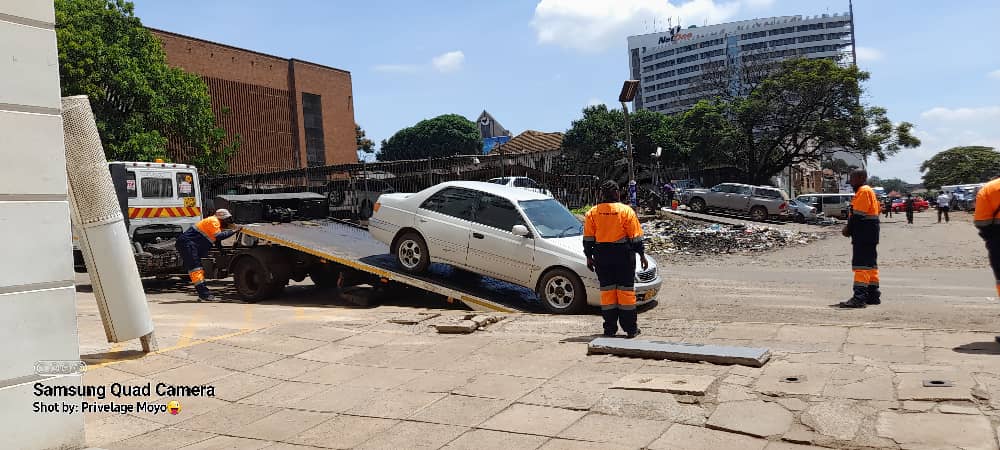 The opposition Citizens Coalition for Change (CCC) has suddenly found itself at crossroads with its urban support base due to a wave of vehicle clamping operations in the CBD.
In a bid to restore order to the CBD municipal police and City Park officials have been clamping and towing many vehicles including those whose parking time would have just expired.
Angry Residents
This has drawn the anger of many who feel that the exercise has become abusive and extortionist.
"If you park your car and go away without paying, say because the City Park guy isn't near, you will return later to find it clamped.
"It's so unfair and illogical. It's not my duty to get into town and start searching for them if they are not around.
"They should be available and if not, just book the car so that it has a debt to pay not clamping it," Harare resident Shepherd Mafurusa said.
The @cohsunshinecity clamping operation is slowly getting out of control. This video shows some members of the public fighting to stop a car from being clamped in the CBD. pic.twitter.com/dxHyCUJjLU

— OpenCouncilHRE (@OpenCouncilHRE) March 8, 2023
Others added that the City Park officials are actually in the habit of hiding so that drivers can go without paying allowing them to emerge later and clamp the vehicles.
One, Sandra Pedzisai (33) said she had experienced such.
"I parked the car and couldn't find any City Park person.
"I then moved away to go and do my business. After climbing the stairs I turned back to get something I had forgotten in the car.
"To my surprise the City Park guy was already there at the car trying to clamp it. I was shocked," she said.
Combined Harare Residents Association (CHRA) director Rueben Akili said the operation would not yield the desired results.
"The current arrangement cannot yield much result, in our view the issue of municipal police and enforcement of bylaws has been marred with corruption and if they are no mechanisms to deal with that this arrangement is likely to fuel corruption," he said.
The Law and the Politics
Council is allowed to clamp and tow away vehicles under the Harare (Clamping and Tow Away) By-Laws , 2019 (No1).
This includes any vehicle which would have violated any of Harare municipal traffic by-laws specified in the first schedule to statutory instrument of 2005.
However, at the pace at which the exercise is going the opposition CCC faces a dangerous scenario of ostracising itself from its core base.
Harare council has a majority of opposition councilors led by Mayor Jacob Mafume who has made so much noise about central government failure to govern.
With less than 5 months left before the general elections a public policy that angers its mainly urban support base isn't the most conducive tactic going into an election.
The ruling ZANU PF has lost so much support over similar accusations of being dispassionate about the standards of life for citizens.
CCC coming up with a similar approach will most likely trim its wave of urban support.